Green Olive Torrance Menu in Los Angeles, CA
Mediterranean Pita & Flatbread Sandwich Wraps
All Wraps served with pickled turnips and your choice of our Mediterranean seasoned sauteed spicy potatoes or a house salad with our garlic lemon dressing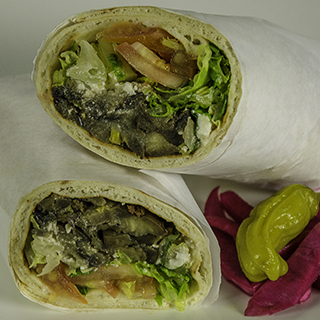 Fresh, seasoned, and grilled eggplant with lettuce, tomatoes, feta cheese, and our garlic lemon house dressing rolled in a pita bread. $10.99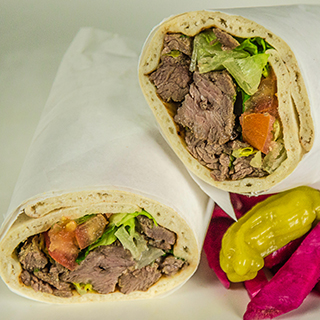 U.S.D.A. Choice beef kabob with lettuce, tomatoes, and our garlic lemon house dressing rolled in a pita bread. $11.99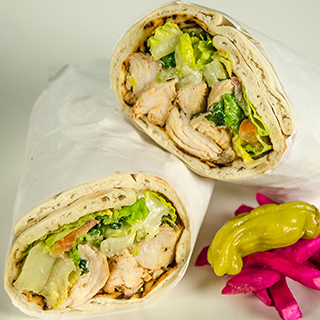 Our famous chicken breast kabob with lettuce, tomatoes, and our garlic lemon dressing rolled in a pita bread. $10.99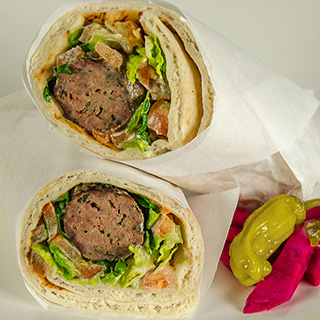 Our grilled ground beef kofta with lettuce, tomatoes, and our garlic lemon dressing rolled in a pita bread. $10.99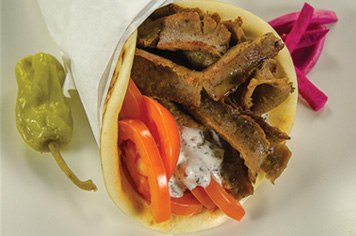 Tender strips of lamb and ground steak gyro, tomatoes, and our tzatziki sauce rolled in a flatbread. $10.99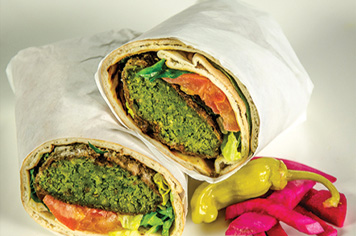 Our famous falafel patties with lettuce, tomatoes, and tahini sauce rolled in a pita bread. $10.99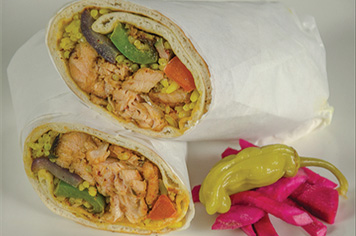 Our grilled Mediterranean seasoned salmon kabob with rice, fattouche salad, grilled onions, yellow squash, and green zucchini rolled in a pita bread. $12.99
Grilled shrimp kabob with rice, fattouche salad, lemon juice and olive oil rolled in a pita bread. $11.99
Tender strips of Mediterranean seasoned chicken shawarma roasted to perfection and rolled in a pita bread. $10.99
Mediterranean Salads & Dips
Add kofta, chicken, gyro, beef, shrimp or salmon skewers (additional charge applies).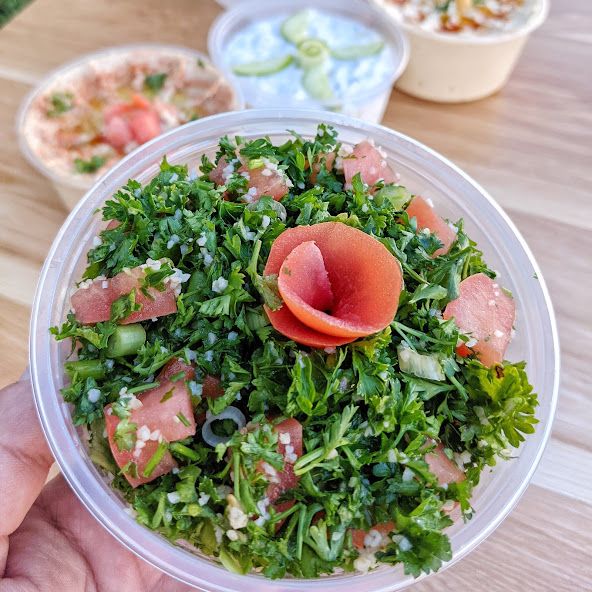 Tabouli Salad
A perfect blend of chopped parsley, onions, tomatoes, bulger, lemon juice, olive oil, and herbs.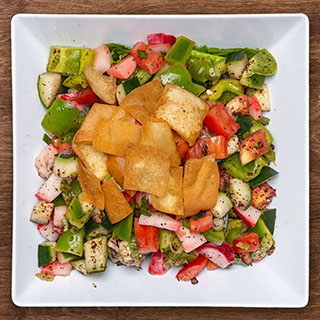 Fattoush Salad
Seasoned crisp medley of romaine lettuce, cucumbers, radishes, green onions, tomatoes, bell peppers, olive oil, and fresh squeezed lemon juice. Garnished with sumac and toasted pita chips.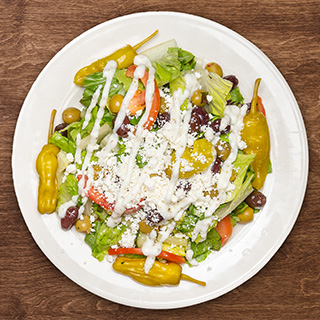 Greek Salad
Fresh romaine lettuce, crisp cucumbers, tomatoes, green olives, pepperoncini, feta cheese and our garlic lemon dressing.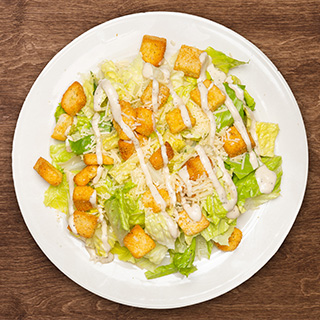 Caesar Salad
Fresh romaine lettuce, croutons, parmesan cheese, with a Caesar dressing.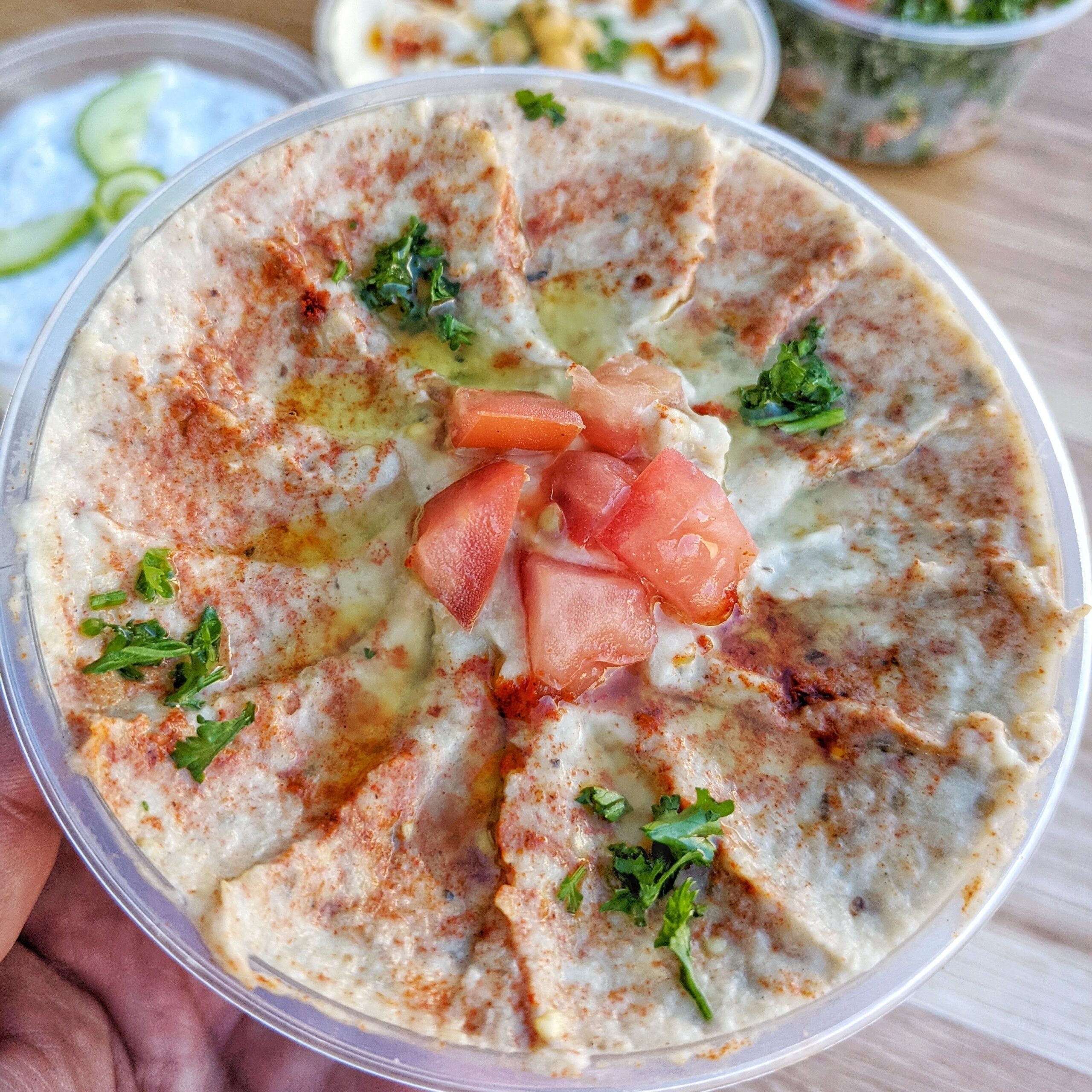 Baba Ghanoush
A rich and creamy eggplant dip.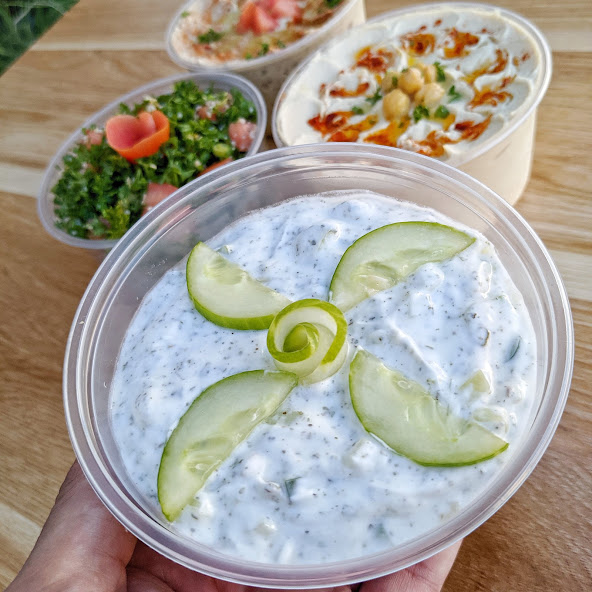 Tzatziki Salad
Cucumber and yogurt dip.
Grilled Vegetable

Sm. $8.99 Lrg. $10.99